All of you probably dreamed of spending the night in an obscenely expensive hotel room, filled with tasteful decorations, amazing room service and a superb view. Some of you probably even have the money for it, but most of us don't. The following list will probably be a good start if you ever win the lottery or you don't mind selling your house so that you can spend a few days feeling like a king or queen.
The Ritz-Carlton, Moscow, Russia
If you are traveling to beautiful Moscow and you want to check in a high end hotel, the lovely Ritz Carlton will probably suit your taste. Situated on Tverskaya Street 3, you can check out the hotel while you are on a stroll through the Red Square. The most expensive suite is about $18,000 per night but the view is certainly worth it as the 2550 square feet room features floor to ceiling windows facing the Kremlin, Red Square, St. Basil's Cathedral and Christ the Savior Cathedral. Besides that, you get everything you would expect in a high end hotel and more: a grand piano and dining area, a library, an office room and a boardroom. The bathrooms come with opulent marble baths with separate rain showers and a private sauna. The room is definitely designed to accommodate even the pickiest customers with its non-allergenic foam pillows and access to the Club Lounge with five daily food and beverage presentations.
If you don't want a suite, you can definitely go for the most luxurious room, the 680 square feet executive room with a really calming Japanese garden atrium view. The spacious studio suite partly separates the bed area from the elegant seating area and it's decorated with fine woods and fabrics. Even the marble baths are outstanding. If you are looking for a place to work in peace, this amazing room will certainly suit your needs.
Hotel Cala di Volpe, Sardinia, Italy
The Hotel Cala di Volpe in Sardinia definitely looks like it has been snatched from a renascence painter's dream. Located in breathtaking part of Sardinia and featuring a combination of beautiful pastel accents and hand crafted Sardinian furnishings, this hotel is a work of art. It has 907 sea view rooms and 17 suites, but one of them truly stands out in a refreshing and unique way, the Presidential Suite. The $18,500 suite has three bedrooms, a solarium a fitness area and a luxurious private swimming pool, making it perfect for a sophisticated escape to the country.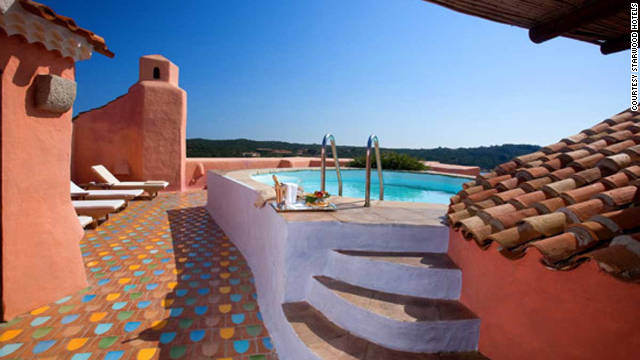 The President Wilson hotel, Geneva, Switzerland
The President Wilson hotel in Geneva is no doubt an astonishing hotel if you want to visit the city in great style. The hotel is located 8 km from the Geneva International Airport, 1 km from Cornavin Station and close to the main international organizations, the banking districts and luxury stores. You can definitely benefit from a unique stay at this hotel if you opt for the lovely President Wilson suite, a suite meant for rich business men and famous movie stars. The suite will cost about $30,000 a night and features 12 rooms and 12 bathrooms in its wide 18,083 feet. It's also one of the first suites in Europe to feature a Bang & Olufsen BeoVision 4-103 flat screen and audio installation for an amazing experience. It has a Fitness center, a private elevator, a Steinway grand piano and a private terrace.
Burj al Arab, Dubai, United Arab Emirates
Designed to become a symbol of Dubai, the Burj Al Arab isn't just an expensive hotel, but one of the most recognizable and impressive buildings in the world, one that takes luxury to an almost Kafkaesque level.
The royal suite has more than 8,000 square feet and is decorated with the most opulent materials available. It also comes with its own cinema, a 24/7 butler and at a cost, it offers its helicopter of fleet of Rolls Royce's to make sure you arrive wherever you need to be in style. Amazing service like this doesn't come cheap and the Royal suite at the Burj will set you back $18.000 a night.
Four Seasons New York, New York, USA
The Four Season is one of the world's most impressive hotels, offering a perfect balance between high end design, and views that look taken out of a movie.
The Ty Warren penthouse suite is the jewel of the Four Season offering a 800 feet, 360 degrees view of New York's amazing skyline. It has an on call butler and some of the best service available on the planet. It also offers a spa with fantastic views of Manhattan, and a library with a grand piano. The 4300 square feet of sheer opulence cost $34,000 dollars a night.